Creed of Lambda Chi Alpha
Lambda Chi Alpha is a values-driven organization. Our core beliefs are summed up in our Creed:
We believe in Lambda Chi Alpha, and its traditions, principles and ideals. The crescent is our symbol; pure, high ever growing, and the cross is our guide; denoting service, sacrifice, and even suffering and humiliation before the world, bravely endured if need be, in following that ideal.

May we have faith in Lambda Chi Alpha and passion for its welfare. May we have hope for the future of Lambda Chi Alpha and strength to fight for its teachings. May we have pure hearts, that we may approach the ideal of perfect brotherly love.
Coat of Arms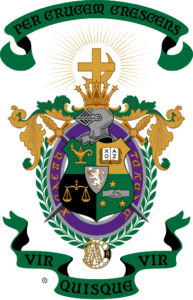 Perhaps the most commonly seen artistry representing Lambda Chi Alpha is our coat of arms, developed (unlike that of most fraternities) after careful study of the rules of heraldry. Designed by Jack Mason of Epsilon Zeta (University of Pennsylvania), our coat of arms displays our three open mottos, translated from top to bottom, "Crescent in the Cross," "Naught Without Labor," and "Every Man a Man." Present are the crucicrescent, the lamp of learning, the clasped hands of brotherhood, and other symbols, as well as the inescutcheon signifying our merger with Theta Kappa Nu (the white rose is our fraternity flower) and the badge of membership below. In the medieval rules of heraldry it would be described as such:
Escutcheon: quarterly 1, vert, a lighten Greek lamp or; 2, or, an open book proper, bearing on its face the letters Chi, Omicron, Alpha Zeta; 3, able, a balance, or; 4, vert, a pair of clasped hands argent, between three mullets in chevron or; over all an inescutcheon argent, lion rampant holding a white rose slipped proper.
Behind the escutcheon a pair of swords in saltire, points downward, argent, pommels, and hilts or. Mantling vert, lined, or.
Encircling the escutcheon a riband purpire, edged argent, bearing the Greek motto Chalepa ta Kala surronded by an olive wreath which bears pendant the badge of the brotherhood.
Below the escutcheon a scroll with the Latin motto Vir Quisque Vir.
Crest: issuant from a crown celestial or, ensigning a gentlemen's helmet proper, a crucicrescent rayonne or, Latin motto Per Crucam Crescens, on scroll.

[from Baird's Manual of American College Fraternities, 19th Edition, (1977), p300.]
Badge of Membership
Members of Phi Beta Kappa and other early literary societies carried stylized keys to signify membership. Among general fraternities, the badge has for the most part evolved into a pin worn on the breast, in the form of a ritualistic symbol or the organization's letters. Lambda Chi Alpha shares with Theta Chi, Triangle, and Alpha Chi Rho the distinction of including both a monogram of its letters and a key fraternal symbol. The Badge is properly worn over the heart, preferably with a badge guard bearing a monogram of the member's zeta designation, and only by initiated members, their wives, and their fiancees (special exceptions may be made for some housemothers).
The Badge of Membership of Lambda Chi Alpha is among the most meaningful in the fraternal world. Each stone, letter, and line, and each circle of the crescent has a special meaning. is made with the lambda being struck separately from a single piece comprising the chi, alpha, and crescent. The background for the letters delta and pi is enameled, and the lambda is joined to the remainder of the badge (always yellow, white, or green gold) before the eight crescent pearls and (optional) stones in the lambda are set. 
Associate Member Pin

The Associate Member Pin consists of the letters lambda, chi, and alpha formed into a Gothic arch superimposed over four triangles (another symbolic union of Lambda Chi Alpha and Theta Kappa Nu). Its symbolism is given in the Associate Member Ceremony:
(High Alpha) As a token of your acceptance of our pledge and of our desire to be of assistance to you, whom we hope to know as brothers, you have been invested with the badge which is the emblem of Associate Membership in Lambda Chi Alpha. It consists of four equilateral triangles, standing for fraternity patriotism, learning and morality, and upon them has been imposed a monogram of the letters Lambda, Chi, and Alpha, the significance of which will be explained to you at a later time
The Cruci-Crescent
According to the History of Lambda Chi Alpha, we are the seventh order espousing knightly ideals to use the crescent as a symbol. It signifies eternity, purity, fertility and growth, and submision to divine law; it was the symbol adopted by the legendary founder of Lambda Chi Alpha, Rene of Anjou. Warren A. Cole writes, "For a further symbol we took the Cross of St. George" who might almost be called the patron saint of brotherhoods… As Brother Wurster (who is something of a poet) remarked, 'There you have aspiration and sacrifice together, which follows out our motto.'" 
Seven Core Values of Lambda Chi Alpha
Developed in 2007 and modeled after the U.S. Army's values, Lambda Chi Alpha's Seven Core Values — loyalty, duty, respect, service and stewardship, honor, integrity, and personal courage — provide a moral compass for members of the Fraternity.
Loyalty
Establishes the correct order of our obligations and commitments. Unswerving allegiance to the organization and its laws, ideals, and defining principles prevents us from misplacing our loyalties.
Duty
Delineates the sum total of all laws, rules, and customs that make up our organizational, civic, and moral obligations. Our values originate with duty because we expect individuals, as a minimum, to fulfill their obligations. We often expect individuals to exceed their duty, especially in ethical matters.
Respect
Denotes the regard and recognition of the absolute dignity that every human possesses. Specifically, respect indicates compassion for and consideration of others, including sensitivity to and regard for the feelings and needs of others.
Service & Stewardship
Service before self signifies the proper ordering of priorities. The welfare of the organization comes before the individual's. While the focus is on service to Lambda Chi Alpha and broader communities, the idea also incorporates the concept of stewardship, of holding something of value in trust for others.
Honor
Describes the complex of all values that make up the public code of the individual. Significantly, honor provides the motive for action and demands adherence to a public moral code, not protection of reputation.
Integrity
Encompasses the sum total of a person's set of values — his private moral code. A breach of any of these values will damage the individual's integrity. Integrity, closely related to the word integer, refers to a notion of completeness or wholeness.
Personal Courage
Depicts the premier virtue that enables us to persevere despite fear, danger, or adversity. Personal courage includes the notion of taking responsibility for decisions and actions. Additionally, it involves the ability to perform critical self-assessment, to confront new ideas and to change.